Robert Wadlow (tallest human being in history)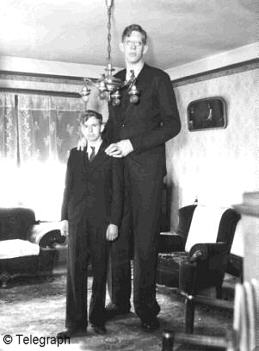 Okay, this is not celebrity news. But still it is some knowledge you can share with your guests when you throw another one of those renowned dinner parties by candlelight wich are a smash hit every single time. Your guests may finally come to realise you are not that stupid afterall.

The biggest human being who ever lived on this planet is Robert Wadlow 8'11.1" (2.72m).
He was born in 1918 on February 22, to Harold F. and Addie (Johnson) Wadlow on Monroe Street in Alton, Illinois, weighing 8.7 pounds. He died on July 15, 1940. By that time his weight was 490 pounds.